TRAVEL STYLE with LISA PRZYSTUP
Lisa Przystup is a woman who has gained a reputation for embodying that intellectual and independent sensibility characteristic of the modern Brooklyn creative. Her personal style and home decor possess an arty-yet-clean aesthetic with a mix of earthiness, timelessness & practicality. This winter, the Brooklyn-based copywriter and florist escaped the frigid climate of NYC to sunny Naples, Florida for a break. Since I'm a constant traveler (and chronic over-packer), I am always curious about how other smart fashion-minded girls pack for trips. So, I asked Lisa to show us some of her travel essentials. Below is a visual packing list with some of Lisa's travel notes.
Destination: Naples, Florida
Packing Essentials: 1) Tio y Tia Gambler hat for feeling like Georgia O'Keeffe, 2) Bembien Sofia bag because it's the perfect size for all my essentials and it's woven, which makes it perfect for warm-weather adventures, 3-4) two different film cameras because in my dreams I'm a legit photographer, 5) T Magazine because it's the best way to kill time on a flight, 6) Ray-Ban sunglasses because sun, 7) Aesop hand lotion: all-in-one aromatherapy and moisturizer, 8) Santa Maria Novella perfume because it's exactly how I want to smell always, 9-10) wallet and passport (self-explanatory), and 10) last but not least Zou Xou Belu pumps (In dulce de leche suede) because they go with absolutely everything I own.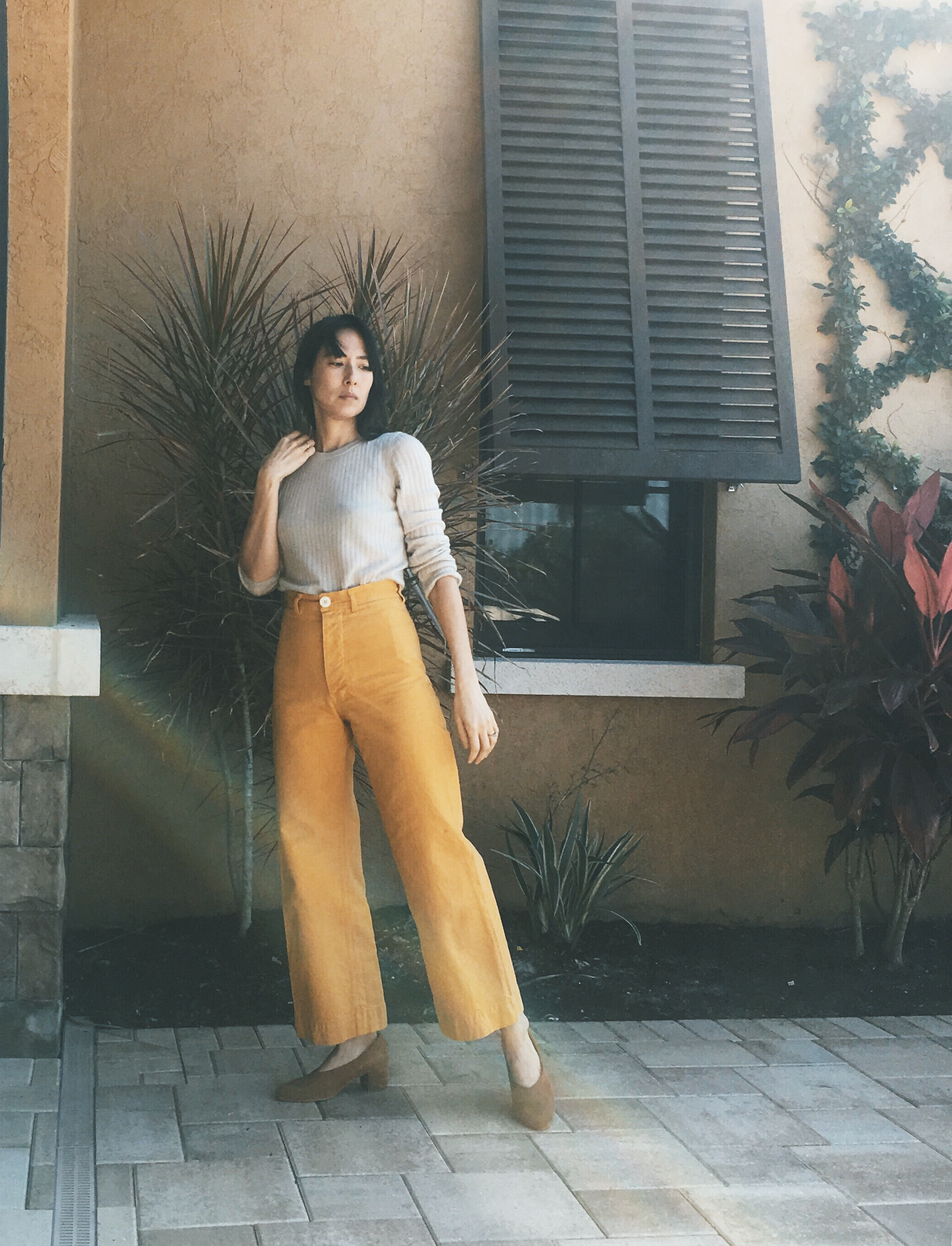 Sat in the sun and warmed my bones poolside, spent a day at the Ritz Carlton spa and warmed my bones (basically just jumped from the steam room to the sauna back to the steam room), went for a swamp walk in the Everglades, took a joyride in a golf cart, and spent the rest of my time doing absolutely nothing, which was exactly what I wanted to do.
Lisa wears the Belu Pump in Dulce de Leche Suede with Jesse Kamm Sailor pants & a Jenni Kayne Sweater.